About Growth Marketing Genie
Full-service data driven marketing and creative agency.
Growth Marketing Genie was started with the aim of helping clients prepare for a
time when they can serve their customers with what they want, even before they realize they need it. With our wizards at work, we strive to bring unique ideas, products, and strategies to the forefront.
Our work revolves around the efficient and effective use of data, offering end-to-end solutions to our clients. Additionally, we aspire to inspire brands to look beyond the blurred lines of basic marketing and embrace data-driven campaigns. Through this approach, we aim to change the way the world approaches marketing.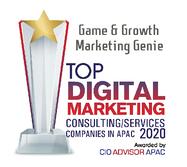 Our Team Experience
We have worked with great companies of all sizes

Need an award-winning marketing agency on your side?